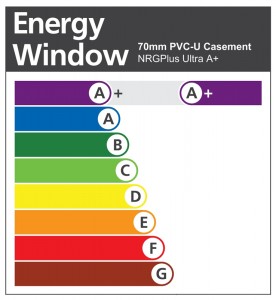 The majority of our windows are A-rated for energy efficiency. They incorporate the very latest glazing technology and these double-glazed units use the latest clear energy glass.
In the UK, homes create a quarter of all CO² emissions. Our windows and doors will help to eliminate energy loss from your home as the units offer up to 3 times more thermal insulation than standard double glazing and are 20% better than Low-E thermally insulating glass. The outer pane allows optimal amounts of the sun's energy through the glass into the room allowing the benefit of free solar heating. The inner pane uses an advanced glass coating technology which reflects the heat from inside the room, back into the room.
The Window Energy Ratings scheme was launched in the UK by the British Federation of Rating council, a Government-supported independent body so consumers can reliably compare one with another.